Just how important is perfection?
Last weekend we had a church retreat and all the adults shared their life story. It was inspiring to hear everyone share. I'll admit, this isn't practical if your group consists of more than about 15 people. We also had several very kind babysitters, without which it would have been much more difficult.
I started my life story by telling about the cake, the recipe I shared with you last week.
I was in charge of bringing dessert for Sunday noon. As I made my plans, I began to worry. Would it be okay to make a cake on Friday and serve it on Sunday? Should I take the ingredients along and bake it Saturday afternoon? And what about people who don't like chocolate? I should probably have another dessert. One cake might not be enough anyway.
Stop, I finally told myself. This is how you always get yourself wound up into a frenzy about things that don't matter. This is a first world problem. Even if the cake is completely stale by Sunday, no one will die.
I did allow myself to make a second dessert, a lemon cream berry trifle. It was Valentine's season after all.
Friday morning, Anina had the good sense to sleep in and I efficiently mixed the cake together and popped it in the oven. While it baked, I cooked the berries for the trifle, then set them off the burner to cool. Things were going well. Besides, I had matured beyond my anxiety about whether the food would be okay. I was doing my best and it would be fine.
I tested the cake and my tester came out clean, so I got it out and placed it on top of the oven. I believe Anina had appeared by this time, or I might have dug out a cooling rack.
A few minutes later, I glanced toward the oven and saw smoke billowing from the cake.
I stared.
What? How could the cake still be so hot that it–
Oh. The burner was still on. I had forgotten to turn off the burner after cooking the berries, and had set the cake directly on it. I rushed across the kitchen and plucked it off, inhaling charcoal scent. I flipped the pan over. Sure enough, the cake dropped out, missing the top. With a fork I carefully peeled off the stuck cake to inspect it. Some of it was like ash. I discarded the worst, and patched the rest together in a sagging ring.
My resolve to avoid anxiety wavered. The cake was exceptionally ugly. But I will say that living 40 years has not been in vain. I think I recovered much more easily than I would have in my younger years.
I made the ganache and carefully poured it into the cracks first. But there is only so much you can do with patching. I could not get the cake to return to perfect symmetry. I decided to pile berries in the center and around the edge as a distraction.
The next day was Saturday. The cake was safely cooled in the refrigerator at the retreat. I was the fourth person to share my life story (being the fourth oldest) and I began by recounting the smoky experience with the cake. This, I said, is the tension I have battled most of my life. A high sensitivity for doing things correctly, and a low tolerance for dealing with failure. But, by the grace of God, I am slowly learning that perfect is not always best, at least not if it comes at the cost of anxiety and stress. Not if it's about absolute control over my life, and pride in perfection.
Well indeed, the berries did improve the appearance of the cake. And I've heard that you know that your food is good if people joke about it. (Much worse to have a polite silence.)
We happened to be sitting across from our two ministers and their families during the Sunday noon meal.
"It's very good," Justin said of the cake. "It has just the right amount of smoke flavor."
"Did you start out making a white cake?" asked Lloyd.
Then on Monday I got a kind email from an alert reader named Rachel who also had made the cake with my recipe. She said it was good, but she questioned if it really was supposed to have a whole tablespoon of salt. I checked my sister-in-law's recipe.
Oops.
No, that was supposed to be a teaspoon of salt.
I hope I haven't caused a hypertensive crisis anywhere. I have updated the recipe on last week's post so if you haven't tried it yet, now is an even better time to try it. If you did make it, please accept my apology.
Even apologizing can be a sneaky form of pride, though. If apologizing endlessly is my default, maybe it means that I think I'm above imperfections, and so I'm frustrated that I can't always get everything perfect. If I use an apology as a way to resolve embarrassment, it's probably not as helpful.
It's a journey. But I'm encouraged to be able to grow in this area. Perhaps more miraculous than an instant healing is the steady progression of sanctification as God works in us to show us that attaining perfection on our own is not only a bad goal, but an impossible one as well.
I do wonder if God enjoys teaching people humility, like an artist enjoys mixing colors. Certainly, He has no end of creative approaches in his methods!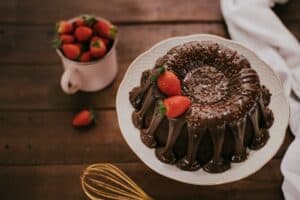 I'm starting in with some cool giveaways in my first and third Tuesday emails. If you've never subscribed to my emails, now is the time to subscribe below.