My post last week, I'll admit, was quite heavy. My writing tends to be more introspective in general, and I don't think that's all bad. It particularly feels worthwhile to write about Light shining in the darkness, as I did last week.
But then, sometimes overthinking and analyzing take on an unhealthy life of their own. At least for me.
So today I'm going to share a recipe for a chocolate cake. My sister-in-law Reba said she makes this cake for her family every year for Valentine's Day. Now, I think a family tradition has deep meaning, especially when it applies the best interpretations of an often foamy holiday.
Cafe Latte's Turtle Cake-Very Moist Chocolate Cake
Grease a Bundt pan or three 9 in round cake pans if you wish to do a layer cake.
Stir together:
1 egg, lightly beaten
1 cup of buttermilk or sour milk (add a tablespoon of vinegar to 1 cup of regular milk as a substitute)
2/3 cup vegetable oil
Stir together:
2 cups of flour
1 3/4 cups sugar
1/2 cup unsweetened cocoa powder
1 T. baking soda
1 tsp. salt
Gradually add the buttermilk mixture to the dry ingredients.
1 cup freshly brewed hot coffee
Gradually add the coffee to the batter. Pour into pan/pans. Bake at 350 degrees for 20-25 min.
(Note from Katrina: After removing from oven, avoid setting cake on a burner that is still on. Don't ask me how I know this!)
Ganache
Bring these ingredients to a boil in a saucepan, stirring constantly:
1 cup of sugar
1/2 cup of milk
6 T butter, cut up
Remove from heat and add:
12 oz pkg chocolate chips
Whisk until smooth. If the ganache is too thick or grainy, add 1-2 tablespoons hot coffee.
If using layers, drizzle each cake layer with the chocolate ganache, caramel syrup and pecans. Chill 1-2 hours before serving.
My sister-in-law makes hers in a Bundt pan, pours the ganache on top and then adds strawberry slices instead of caramel and pecans.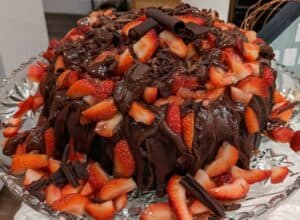 Do you have family traditions you repeat every year? If not, here you go!