A few years ago, in the fall of 2019, you may remember Marnell and I hosted two teenage brothers in our home for several months. During that time, many of you contributed to a fundraiser for the older brother to take a trip to Washington DC with his school class in the summer of 2020. Hopefully, you received his hand-written thank you card.
Well, we all know what happened in the summer of 2020. Not much. The trip was canceled and the travel company refunded the money. Marnell and I decided to hold it until a time came that the boys would have another opportunity for a trip.
This summer, that chance came when church friend Sarah (who has always been close to the boys) arranged for them to attend a wilderness boys camp in Idaho.
This was an amazing experience for them, and I wanted you to know that your dollars helped these brothers climb mountains, see scenery unlike anything we have in Indiana, and hear the message of the Gospel from their group leaders. In the end, despite the disappointment of the cancellation of the DC trip, the money went to an even better use than its original intention.
On that note, without being specific, I will say the boys could use your prayers, both for their physical and spiritual safety.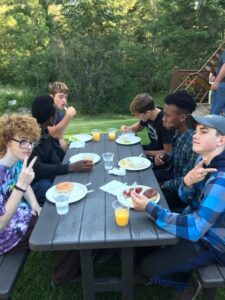 Did I Base the Brady Street Boys Books on these Two Brothers?
"Are these the boys who used to stay at your house?"
Several people, when seeing the illustrations for the Brady Street Boys books, have asked this question.
The short answer is no. I created Terry, Garry, and Larry in my childhood before the boys we hosted were born. However, I do think several of the boys' characteristics merged into Terry, Gary, and Larry. In particular, Terry does have the hair of the oldest brother.
I was also pleased that the youngest brother really enjoys the Brady Street Boys series. Apparently the inspirational tone was mingled with a sufficient amount of adventure to pass the sniff test. He has read them all so far, books 1-3. I need to get him a copy of Brady Street Boys Book Four, Tricked on the Tracks.
This book officially releases today, picking up where Noise in the Night left off in the search for the missing surgeon. Here is the back cover:
Will the boys be accused of kidnapping?  Or will they die of thirst first?

When Dean promises to help search the Hobo Jungle for clues, Gary and his brothers seem closer than ever to finding the missing surgeon.

But now Dean is missing too. The boys proceed without him, trying to practice longsuffering. With the help of two hobos and a red handkerchief, they begin to untangle the trail left by Dr. Jefferson.

Then, Dean reappears. But relief turns to despair as the boys find themselves in a worse predicament. Will they be accused of kidnapping? Or will they die of thirst? Is it possible to be longsuffering even now?

They've almost forgotten about finding Dr. Jefferson. But the red handkerchief has one more clue.

Back Cover for Tricked on the Tracks, Brady Street Boys Adventure Series Book 4
Check it out below!
And thank you again for making a difference in the lives of two "real" boys!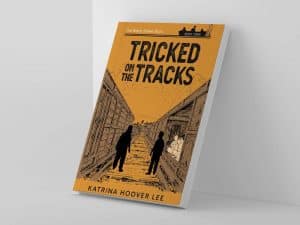 Book Four officially releases today, with a clarification. If you need anything else from my book shop, I suggest that you wait until next week when the Early Black Friday Sale starts on Tuesday. However, Tricked on the Tracks, Book 4, will not be on sale. We spent extra money on this small shipment, just to get it to you before Christmas. (This is why it will almost certainly not be available in other stores until the next shipment comes at or after Christmas.) So I won't put it on sale like most of the other books. But if Tricked on the Tracks is all you need, you can order today at the button below.
Be sure to subscribe to my email list (only if you don't get my emails already) for optimal savings during next week's Early Black Friday sale. The coupon arriving by email will also be the only way to get a discount on Kidnapped in Haiti, another new release.