I've been singing the following song with Anina a lot lately, and it is sparking a blog series. Today is Part 2, discussing Line 2.
God is great, and God is good.

And we thank him for our food.

By his hands we all are fed.

Give us Lord our daily bread. Amen.

Author: Anonymous
I've been enjoying a fresh look at thanking God for food, and what a better time to share it with you than the week before Thanksgiving.
Recently at breakfast with my daughter, I sang "and we thank him for these eggs. By his hands and the chickens we all are fed…" I've been making a vague attempt at verbalizing the farm to table path for Anina. But maybe for Thanksgiving, it's time for all-out gratitude for the many people and processes that bring us our food.
You Might Be More Like Jackie Kennedy Than You Think
Why not thank God specifically for the food this Thanksgiving as we sit around steaming platters of turkey and pass chilled bowls of cranberry sauce? Instead of complaining that the price of Thanksgiving groceries has risen by 20% since last year, why not be amazed at the unprecedented opportunities we have here in the United States to source all these ingredients from our own local grocery store? Why not express gratitude that the cost of our meal is so much less of a percent of our total income than it is perhaps anywhere else in the world?
I remember being astonished that Jackie Kennedy ordered bread flown fresh from Paris every day (I believe this was after the White House years). But the truth is, there are a lot of people in the world who would probably view our Thanksgiving habits in much the same way that I view Jackie Kennedy's fresh bread habits.
Really? They might say. You sit around eating food all day that came to you from hundreds of miles away? And you never think of the people who labored to bring it to you?
Okay, I'll stop philosophizing and give you an example.
How Can We Thank God Specifically for Our Food?
Here's a recipe for cranberry relish that Mom often made. I have come to love this relish as well.
Cranberry Relish
4 cups of fresh cranberries
3 apples cored and quartered
2 oranges, seeds taken out
2 cups of sugar
Grind cranberries, unpeeled apples and unpeeled oranges in a grinder or blender. Add sugar. Mix well. Chill. Best if made a day before serving.
Yes, you read that correctly. It calls for unpeeled oranges. No wonder it requires so much sugar to make it edible, right? But trust me, the combination is really quite charming.
Now for the exercise.
And we thank Him for these oranges…
Exactly how many people does it take to get 2 oranges to my local grocery store in Elkhart, Indiana, in November? With a quick Internet search, I discovered that most oranges are grown in Florida, and most still picked by hand. The video below is about orange juice, but still helped me understand the process.
To bring my two oranges here, there was likely a picker, a truck driver, a sorter/inspector, a packer, more truck drivers, a receiver at the local Kroger, someone to put the oranges on the shelf, and someone to pick them off for my grocery pickup order.
Wow! And that's all without talking about the cranberries, apples, and sugar.
And we thank Him for these cranberries…
I researched cranberries, which I knew are grown in my home state of Wisconsin, and found that they are primarily produced in New England. They are grown in bogs, which are usually flooded with water for picking, since the small fruits contain four air pockets that make them buoyant. There are wonderful fascinating tutorials about these processes, including protecting the plants with ice in the winter and growing plants for five years before they can be harvested. Anina loved one we found with big tractors and conveyors full of glistening red cranberries. As a side note, I hope the cranberry industry is doing okay, since I read that cranberries are the only Thanksgiving grocery that has dropped in price since last year.
And we thank Him for this sugar…
And sugar? How in the world is white sugar produced? There's a great infographic from The Sugar Association that you can see by clicking here. Prior to packaging white sugar, there is a harvester, a crusher, a boiler, a spinner, a transporter, a melter, a crystallizer, and a drier. I remember reading of slaves harvesting sugarcane who could have a hand chopped off for trying to taste the syrup. Hopefully nothing like that happens in today's world, but you never know.
And we thank Him for these apples…
For someone living where I do, the path of apples from farm to table is more intuitive. But perhaps that enables me to give thanks better. If we've experienced the exhausting labor of picking apples, it's easier to mean what we say when we thank God for the picker.
How to Thank God for the Food This Thanksgiving
With one bite of cranberry relish, we've connected ourselves to maybe a hundred different people, many of them likely low-level workers trying to feed their families.
I've often heard "bless the hands that prepared it" in prayers before a meal. I always thought of the one person who last handled the food and assembled it. But what a great thing, to extend the blessing all the way back to the field and factory!
If I had older children, I think I'd give them all a Thanksgiving recipe and ask them to come up with all the people who might have enabled us to enjoy that recipe. Or maybe just one ingredient per child, since it's rather complex, even for a simple dish like cranberry relish. At the meal or after the meal, everyone could report on their dish or ingredient and the links that brought it to the table.
I've given you a start (assuming you'll have a bread basket on your table) with a link to "From Field to Table" below, about the path of wheat. But if you don't want your children on the internet, encyclopedias would be great for this too.
At the least, as you chop, baste, dice or slice, you might ease your own inward-focused holiday stress if you focus on thanking God–really thanking Him–for this food.
Happy Thanksgiving!
I'll probably take a holiday break next weekend, and be back in two weeks with thoughts on "By His Hands We All Are Fed."
Below are the two new releases from this fall. Someone told me Tricked on the Tracks was hard to find on the shop, so you can go there directly by clicking on the book.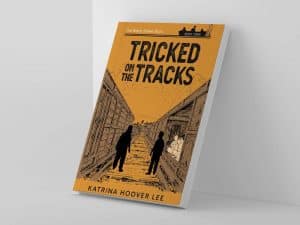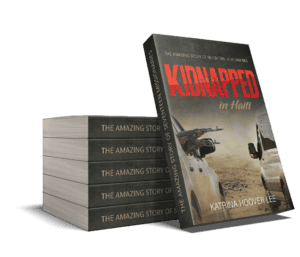 Also, audio CDs of From the White House to the Amish are back in stock.