This blog, this podcast and the book they represents, are not just about a house-eating wildfire in Texas. They champion a deep faith in God despite suffering. Here, see a real live review of the book on Goodreads that proves that not everyone will like this book.
I honestly hated it. The writing was meh, bland and boring mostly but, what really got me was the message. Like, WHAT?? If god sets your house on fire, you thank him for sparing your life. What the hell. -100/10 would never recommend, ever. This kind of crazy is why I'm an atheist.
Before we get into the story of Debra (the story to which this review alludes) let me share a few observations about writing Inferno. By the way, I'm not offended by that review. I'm sad she thinks my writing is boring, although she concedes that it is only boring "mostly"! But the rest of her review makes me feel that I accomplished my mission quite well. Had I mocked Debra's faith in God, I think she would have given it much higher marks.
A Few Observations About Writing Inferno
First, never assume that officials will be helpful as sources. I managed to score an interview with one of the most important people in Bastrop. Eagerly, I awaited our conversation. To my great disappointment, this person's answers helped me less than many of the eyewitnesses on the highways and byways. Now, public figures and politicians have to be on the guard, I'm sure. They also have privacy rules to follow. I'm just saying, given the choice, I'll take the homeless man sleeping on the street as an eyewitness before a public figure, any day.
Second, if you find a voice that fits your project perfectly, clear your schedule and listen! Debra made Inferno in the Lost Pines something greater than a fire chronicle. She had not been a Christian many years at the time of the fire. She had been raised in a Catholic home. She turned away from God and got into the occult. She was a self-proclaimed witch and owned a shop in Austin where she sold upside down crosses as well as herbs, crystals and Wiccan stars.
Third, look for symbols in the history and geography of a setting. This is a different topic, but I loved finding that Bastrop has had a history of surviving catastrophes since 1832. Even the loblolly pines of Bastrop had survived the odds for many years, miles away from the main forest.
Debra Pahlow is an English teacher and homeschool teacher who has created her own English curriculum. Check it out at pahlowsenglish.com! Here's the description on her website.
Debra Pahlow loves her LORD, loves her subject, and loves her students. A Plan II graduate from the University of Texas at Austin, Mrs. Pahlow has enjoyed over 20 years in private classroom education ranging from preschool to high school. Most of these years she traveled to One Day Academy campuses across Central Texas, serving as lead teacher, English Department Chair, and curriculum provider.

About Mrs. P @pahlowsenglish.com
I don't have time to tell you how Debra went from running an occult shop to serving the Lord. But, as you can tell from the atheist's review, her story alone makes Inferno in the Lost Pines worth reading! But, despite the loss of her home in a wildfire and the more recent tragic loss of her husband, Debra's faith in God inspires and challenges. Unless, perhaps, if you don't believe God exists.
Debra's Three filters ….
When I talked to her last week, Debra recalled that she took away three things after her house went up in flames during the inferno. Since that time, everything she encounters needs to be filtered through these three truths.
God is absolutely sovereign. He didn't wake up that day in surprise, shocked to find fire blazing in Bastrop.
God is absolutely good. There is nothing to feel guilty or bitter about. Having your house burn down is not a punishment.
God loves me and knows my name. We see numbers, but He sees people. Everything he does is with complete love and care.
For Debra, the worst time in the experience was the day after they evacuated. When she packed to evacuate, she expected to come back. But as the messages from inside the fire zone reached them, Debra began to realized there may be no "back" to go to. Debra took a walk and broke down beside a pond. All of her anxiety spilled out before the Lord.
God's Miraculous Saves…
But Debra also recalls the best times in the fire. When they re-entered the devastation for the first time, they still didn't know if there house had burned. They turned into their road, but the road dropped down and they could never see their house from there. Then, as they drove nearer, they saw the pile of ash.
Two possessions survived the terrible blaze, and Debra still keeps them today as mementos of God's care. One of her students had given her a metal cross called "In the Eye of the Storm." If we fix our eyes on Jesus, he had said, everything will be okay. This artwork was the first thing the rescue workers pulled out of the charred rubble.
Her husband's plastic childhood pickle swing, hanging from a nylon rope on a small oak tree twenty feet behind the house. The 2,000 degree fire had twisted metal like pipe cleaners, destroyed the house, and consumed 80 pine trees on their one acre lot. The 20 foot oak tree from which it was hanging had survived.
Really, Lord?
"You saved the pickle swing?" Debra said.
In the eerie quiet Debra heard a still voice in her spirit. She heard God say, "If I could spare a plastic pickle, do you think I could have spared the house if I wanted to? The house had to go."
"If you have two cups of coffee, I can sit down and tell you all the miracles you want to hear!" she says. The pickle swing is about to be re-instated in Debra's backyard for her new grand babies.
Debra also reports that Bastrop is also home to little baby pine forests. The wonderful pines are coming back!
Does Debra's Filter Hold for A Greater Loss?
Eighteen months ago, Debra's husband Dean died. Dean's death rocked her more deeply than the fire had. This loss hit her in the heart.
"When it's your husband," she says, "the one where you had these dreams and visions of growing old together and rocking on the back porch, and when it's gone…"
It came down to the same thing as with the house. Just as the house hadn't belonged to Debra, Dean didn't belong to her either. He belonged to God, who loves him so much more.
"It sounds really nice to say it now," Debra reflects. "But there were a lot of months where you were just struggling with that. Oh, this hurts so much, you can't believe! But He's so good. He's so good through everything. He can handle my tears. He can handle me. There is such solace, such comfort, in knowing that he is sovereign and good. And I'm clinging, Katrina, I'm clinging!"
What About the Atheist's Opinion?
I asked Debra how she would respond to this review on Goodreads. She reminded me that she had a similar experience. I had already picked it for the trivia question below, so run grab your book and turn to page 161 if you have a copy! This blog has gotten quite long, so I'm not going to copy the whole story here. But here are Debra's comments about a woman who mocked her faith, as they both looked at a map of the fire devastation.
Lord, I didn't even have a chance to tell her all the good and amazing things You've already done for us in just these few days. And that Still Small Voice said clearly and almost with a chuckle, "Don't worry, my dear. You said enough."

Our love and trust in Jesus makes absolutely no sense to those entrenched in the world. In fact, it appears like foolishness. But he uses simple testimonies of faith like my library encounter to confound those who assume they are wise. It scrambles their cosmic egg.

-Debra's words
Hey, if you read and enjoyed Inferno, and also use Goodreads, give me an honest rating over there to help things out! I'm just getting established there and still haven't managed to merge "Katrina Hoover" books with "Katrina Hoover Lee."
Grand Opening Special
Check out Inferno in the Lost Pines, with reader photos from Belize and Pennsylvania. Thank you for your orders Arizona, Indiana, Pennsylvania, Ohio, Michigan, Wisconsin, Tennessee, Virginia, Arkansas, Minnesota and Mississippi!
Free leather bookmark with purchase.
10% off with code 10YEARS – You can use any credit card or Paypal or you can mail a check.
Automatic entrance into the drawing for $100 cash. I've been blessed with a steady stream of orders. However, your odds of winning the cash are still higher than any giveaway I have done recently!
Trivia for readers: On page 161, a woman looking at the map of fire damage says to Debra, "I bet all those Christians who are going around saying 'Praise God' are singing a whole different tune now!" What three words come out of Debra's mouth first? The first person to email me (Katrina@500-words.com) with the right answer receives a gift pouch of Captain Garrison coffee by mail! UH-OH! YOU ARE TOO LATE FOR TODAY. You may only win once.

Congrats to Catherine of Maine for the correct answer for yesterday, "I need shoes!" Your package is en route across the country!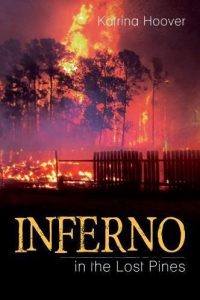 When I started dating Marnell, his nephew Darl said, "She's the one who wrote that book about the fires!" So on my first visit to their house, I took him the badge that I had brought from the Bastrop Fire Department.
Just a few days ago, Darl's mom Doris sent us the photos below. Isn't that cool?
Come back Saturday for a commercial-free blog! I'll be talking with my friend Sharon from Ontario about a project I never published and the value of criticism.