"It's April 19. It's been over a month since we had a natural disaster," I said to Marnell Thursday night. "Or a garage sale."
By natural disaster, I was including not only the flood, but our recent insect infestation and the moving process.
A few days before that, I was sitting on my chair–the comfy rocker that my aunt gave me when I lived at her house which is my favorite still–waiting on the bread dough in my Bosch. It was early morning, and I was scanning Psalm 66.
(Uh, no. I don't normally make bread early in the morning. It doesn't seem right to not clarify!)
It was almost time for me to head to the kitchen. The psalmist was waxing eloquent with praise to God in verse 8: "Bless our God, O peoples; let the sound of his praise be heard."
Got to go to the kitchen. Oh, well, I'll read a few more verses.
What I read next shocked me, and I gripped the Bible with renewed interest.
The psalmist switched from talking to a crowd–("O peoples") to talking directly to God.
For YOU O God, have tested us.
YOU have tried us as silver is tried.
YOU brought us into the net.
YOU laid a crushing burden on our backs.
YOU let men ride over our heads.
We went through fire and through water.
The treachery of a net. The exhaustion of a burden digging into your ribs. The humiliation and shame of being used and "ridden over" by others. The blackened embers after a fire, the soggy basement after a flood.
That's a lot of bad things.
Now there is a lot of discussion about why bad things happen. Some people believe that Satan causes the bad things, and others believe that God causes them, and still others believe that Satan causes bad things but God allows it, as it was in the case of Job.
But the psalmist here, who has himself personally experienced the bad things, includes them in his list of reasons to praise God, and indicates that God himself had orchestrated each thing!
God I praise you… for letting those people run over me? For trapping me in a net? For the flood?
In the middle of the flood when she was homeless, Mary told me, "Sometimes, things come into our lives to make us. To make us! I feel like this point in my life (the flooding) is doing something for me, Katrina. I do. I try to be one of them people who look at every aspect that God put before us."
Every aspect that God puts before us, according to Mary, according to the author of Psalm 66, is fair game to inspire growth, and therefore is fair game to praise God.
And then that last triumphant line of the Psalmist…
Yet, YOU brought us out to a place of utter abundance.
To the kitchen I went to make the bread.
Did they understand why the men rode over them? Could they rationalize the net? Could they say they had enjoyed the fire and water? Probably not.
Yet, they could praise God for those things, anyway because they knew he was in charge, and had a plan.
And somehow they knew that the nets, fire, water, and burdens were the best God had for them in that season. That somehow, if their life had been easy instead, their souls would have suffered.
We are always in the right to abandon ourselves wholly to the sovereignty of God.
The place of utter abundance he brings us to may be different for each person. For me right now, having our living room decluttered and debugged to the point of being able to play a game is utter abundance.
We have a lot of work yet to do, but at least we have the leisure and the space to set up a game. We have each other, and we made it through some tough things. And many people have so many worse things.
That piece in the foreground in black means it's my turn. I barely know how to play, so if anyone can give me a tip on how to win, let me know!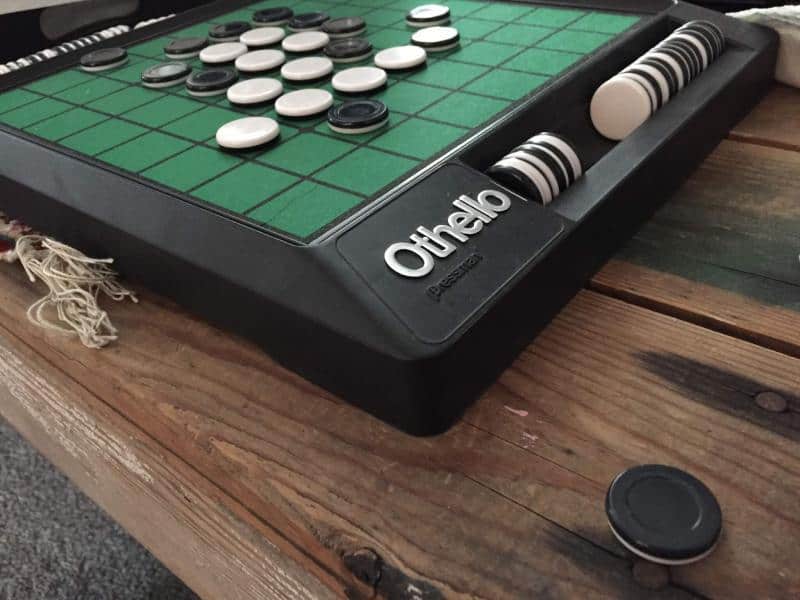 Psalm 66:10-12: "For you, O God, have tested us; you have tried us as silver is tried. You brought us into the net; you laid a crushing burden on our backs; you let men ride over our heads; we went through fire and through water; yet you have brought us out to a place of utter abundance." ESV