Well, after writing a series of posts about hospitality, I feel like I owe you a report of what happened on Brady Street not long ago since my last post. (Please attribute any vagueness to a need for privacy.)
In the week between Christmas and New Year, we planned to host a friend for an evening meal. This friend, who I'll call Anne, had struggled with mental illness and substance abuse had been away at a resident counseling program.
I thought it would be a good time to have our homeless friend over for a meal. I'll call her Catherine.
Marnell was doing inventory at work, and had been working late. The machine shop he works for was preparing for an inventory audit the next morning. But he had thought he would get off earlier on this Thursday than he had been, so I was hopeful that he would make it to the evening meal in good time.
Anne was planning to spend part of the day with us, so we picked her up late morning. I decided to try running the car through the car wash. As I turned into the car wash, I saw it was closed. However, I had already turned into the one-way drive so I had to go on in to turn around in the wider area where the cars enter the car wash when it is open.
When I arrived there, I saw a tent camped right against the overhead door of the building.
There she is! At our last visit to the homeless shelter, I had spoken with a lady who I'll call Jane. She said she was homeless and lived in a tent behind the car wash.
"What do you do when it's zero degrees outside?" I had asked.
She explained that she had a sleeping bag and also a cover to put over her tent. That barely seemed to answer my question. But Jane didn't seem too concerned.
Well, on the day that Anne and I (and Anina) saw the tent, it was warm-ish, but it had been brutally cold over the weekend and I wondered how our tent friend had survived. Anne and Anina and I went through the McDonald's drive thru for food, which we took to the train museum for lunch. But I thought, why not invite Jane for supper too? I could just run over there right before supper and pick her up, if she was there. If Marnell was home just a little early, I could leave Anina with him and be even more efficient.
I talked to Anne about it, and told her I felt that maybe God had a reason for us going to the car wash that morning, and that maybe we should invite Jane for supper. She agreed that it might be a good idea to at least try.
At 1:22 in the afternoon I text Marnell to see how things were going. He said things were going well, and unless something crazy came up he would be done soon. For sure in a few hours. We agreed to move the meal time earlier to 5:30.
Hmmm, I thought. Even if Jane comes, we still have an empty seat at the table. Why not invite my cousin's son Joshua visiting from PA? We had some common interests, and a chance to chat would be great. He was an avid reader, had recently been working at a counseling center, and also enjoyed writing. I was pretty sure he could handle a multi-cultural table. I wanted to invite more relatives, but there was only one seat left. Joshua agreed to come.
I looked at the clock. Since Marnell was going to be home, I could leave Anina with him and Anne and I could run over to the car wash to check on the lady living in the tent. All we had to do was make sure the food was in good shape before we left. Catherine was coming on foot and would probably come early.
Then I got a text from Marnell at 4:01 pm. "Ran into a little snag. But hopefully not too bad."
My heart sank. A little snag. I knew he probably wouldn't make it on time. But there was nothing to do. I told him we would go on without him if he didn't make it. I wasn't quite sure how I would manage everything, but there was simply no use thinking about how bad it would be, because I wasn't going to have a choice.
I thought of skipping the visit to Jane. It would be more complex, since we would have to take Anina along. But I felt like maybe God wanted me to go back and check on her. We decided to go.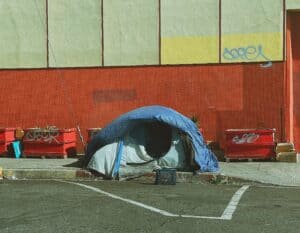 To be continued next week!