One thing I failed to calculate about having a child was how many anxiety-provoking things would emerge. I feel like I'm always worried about something.
The other day I started scratching in my prayer journal as I sat on our porch watching the squirrels in the walnut tree across the street. If my friend Velinda is reading this, she will probably never forgive me for drawing inspiration from squirrels. All I can say is, I find it shocking myself, to admit that I have never seen anything more beautiful as the ecosystem contained in that tree.
Jesus, help me live like a squirrel in a September walnut tree!

Fearless. Fed. Frolicking. Fun.

Under the coral clouds lit up by the sunrise.

Winter is coming. Surely the squirrels won't all survive.

But the grand gymnastics go on, the supra-Olympics.

Trusting. Twisting. Tumbling. Tight rope walking.

Coral gone now. Clouds blue gray.

I Google it: How long is a squirrel's life span?

Up to six years in the wild.

Up to eighteen years in captivity.

Diligent. Daring. Delightful. Disciplined.

Not desperate.

Is this the secret? Living in the wild?

The wildness of trust?

No insurance policies. No margin for error. No backup plan. No boundaries.

Nothing but the creature and the Creator.

Fearless. Fed. Frolicking. Fun.

Under the coral clouds lit up by the sunrise.
Help me to be just a creature with full trust in the Creator!
P. S. I got permission to share the post that's been burning a hole in my brain. But I don't have it together yet. Sometime soon!
Book Two, Facing the Fugitive is coming soon! I am sharing the cover this week to those subscribed by email, but it will appear here shortly too.
Can the boys escape the tunnel?

Times are simpler in the 1980s. Terry, Gary, and Larry love their maple tree, their boat called the London, and the friendly face of the St. Joseph's River. Gary finds comfort on the river, where he can use his upper body strength to row, and almost forget about his wooden leg and lost dreams.

But nothing is simple when Mom spots suspicious characters in the empty house next door and suggests it may be time to move away. And nothing is easy when Dad and Mom assign the boys a summer project to learn about the fruit of the Spirit.

Terry, Gary, and Larry set out to investigate the strange characters and prove that their neighborhood is safe. But then, the detective work backfires, and the boys are trapped.

Trapped in the Tunnel, Book One of the Brady Street Boys Midwest Adventure Series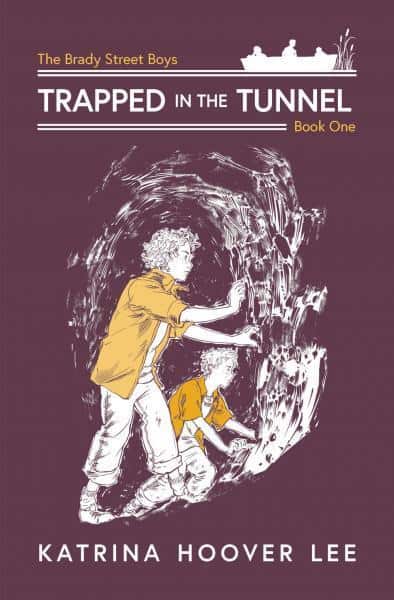 What is the Brady Street Boys series? Based on the fruit of the Spirit, it is expected to have 9 books. Trapped in the Tunnel is Book One. Here is the series description:
Terry, Gary and Larry Fitzpatrick live in northern Indiana along the St. Joseph River. President Reagan lives in the White House. Gasoline costs 90 cents a gallon. For families like the Fitzpatricks, computers and cell phones are still things of the future. The boys' Christian parents teach them to pray and give them a project to learn the fruit of the Spirit. They help Gary navigate the pain of losing his leg and his firefighting dreams.

But having a wooden leg doesn't keep Gary from adventures. With Terry the acrobat, and Larry the brain, Gary begins a quest to find an answer to the most important mystery of all.

What happened to the surgeon who amputated Gary's leg, and has now disappeared?

Brady Street Boys Midwest Adventure Series