"I am happily child-free," the woman said. This is a woman I admire in many ways for her technical expertise. Freedom is a life value of hers, and I'm assuming she decided that having a child would interfere with that.
Because of this and other comments, I was highly anxious about the thought of having a child, especially at age 38. Feeling ill during most of the pregnancy no doubt contributed to my unease. I tried not to share about these fears too much, because it seemed so wrong, in a world where many people would like to have children. But I began to turn away from conversations about babies, because I was getting too confused by the congratulations one minute and the dire warnings of life implosion the next.
I had many fears.
I was afraid that Marnell and I would lose touch with each other. Afraid I would envy my former independent self. Afraid I wasn't the right kind of person to be a mom. Afraid I would never be able to deal with my weight, which has been a life-long problem anyway. Afraid I would be deeply depressed. Afraid I would not be able to do anything.
Well, the only fear that really came true is the one about my weight. I am many dozens of pounds heavier than I should be now. However, I don't consider it baby weight as much as "freaking out because I'm having a big life change instead of trusting God" weight. So my fears compounded the problem more than actually having the baby did. And I don't often feel depressed about it, although I do want to improve my health.
What of the other fears, the dire warnings? What of the loss of freedom from no longer being "child-free"?
I am having the best summer of my life.
Here is what happened to my fears.
Despite some stressful days and nights and sharp words, Marnell and I are having a wonderful joint adventure every bit as fascinating, surprising, and exhausting as traveling internationally.
There are times that I think about independent things I used to do, about cool mornings in New York, Amman, or England. But maybe because I lived independently for so long, I know there is stress in that life too. I am happy for people who are able to pick up and go places. But I don't wish to be that person at this moment.
Except for nights when I got little sleep, or when Anina has been having health problems, as outlined in last week's email, I have not struggled with depression. I feel better than I did when I was pregnant, and better in many ways than I ever have in my life. I sit on the porch more, watching the alley cats pad across the street beneath the crabapple tree. I read more books and laugh more.
I now believe that we can do whatever we want with a child. It is just a matter of weighing whether we want to go through the extra effort or not. And, if staying home on the porch is its own adventure, traveling has less appeal.
I hesitate to share this list in some ways. I know there are people who want children and do not have them. There are people who have many children and truly cannot stop to sit on the porch or read more books. There are single moms who don't have husbands to share the adventure. There are moms who have lost babies. There are moms of children with special needs. I apologize if this post causes you pain, and I recognize that we could be called to walk any of those same roads in the future.
But perhaps I should remember my fears about having a child. Marnell would say, "It's good you worried about it." Or, "God doesn't give us grace for things he hasn't asked us to walk through."
So let me sit in sacred idleness on the porch with the daughter I never expected. Let me order diapers and a sun hat. Let me re-live the days, 25 years ago, laughing with Mom over my baby sister. Let me abandon proper English and talk about the porch-y porch and the bath-y bath. Let me thank God for the blessings of this moment, right now, regardless of what the future brings.
This is freedom, I think.
Note: Occasionally I work a Friday night shift at the hospital. Friday nights work well since Marnell doesn't go to work the next day, and Anina has been sleeping through the night. This happened last week and I did not share a blog post. I decided it's hard enough to stay awake for a day and a night without needing to think about a post! I still try to send an email on those days, so if you wish to hear from me, be sure to subscribe above.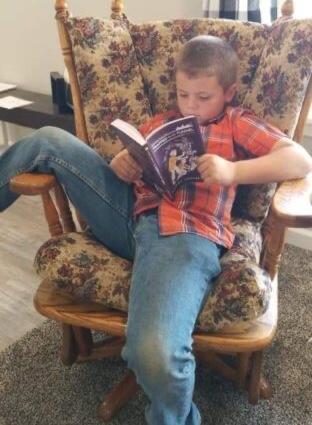 Other paperback options:
Check with your local book store. If they don't have it, ask them to order from Faithview Books in Ohio for a retailer discount.
Order on Amazon and get it for normal shipping in Canada, the UK, Australia, or a few others.
Free option! Ask your local library to order it from Ingram.
We made the decision to slow down in the production of Book Two, now called Facing a Fugitive. This book should be ready well before the holidays.