Washing dishes can get you into all kinds of philosophical trouble.
Remember when I said that spring wouldn't come to Brady Street until I couldn't see the balloon in the tree anymore? I stood there at the sink full of dishes, watching the ugly piece of plastic waving in the bare limbs all winter. I couldn't wait until the green buds came out and hid it from view.
I knew the balloon would still be there. But I didn't want to see it anymore.
Cover it with green, and from my perspective, there's no more balloon! I thought that spring would come, or for sure summer, and the balloon would be "gone." But guess what happened. Because I stared at the balloon all winter – I can still see it now, in the depths of the green leaves. I don't think you would see it if you came and looked out my kitchen window. But I still do, because I know that balloon.
Our experiences affect what we see. They don't change truth, but they change which pieces of the truth we focus on. Take a normal road trip. You can have three people driving past the same property, seeing totally different things. The gardener sees gardens tucked beside houses. The mechanic remembers the make and model of the car parked beside the garden. The fisherman knows without asking the kind of fish the river that runs at the edge of the property.
Truth is absolute. Perspective is relative.
Painful memories are their own brand of experience. Marnell and I are reading the book The Emancipation of Robert Sadler, sent to me by a blog reader. When someone watches loved ones being killed and no justice ever being done, it changes your perception. When my neighbor Mary told me the story of her father being killed, I was so shocked I could hardly believe my ears. After doing more reading, I found that this was commonplace: blacks murdered, raped, hung, or castrated and justice never being done. Another book I just read on a similar topic is fiction, but based on truth: The Nickel Boys. (It does have some language and graphic details, so I don't recommend it for reading to children. But it has fascinating plot twists and a satisfying conclusion.)
Mary says, "Only God knows your story." She has found comfort in God, even though she still carries painful memories with her. She still sees the balloon in the tree, despite the leaves of time, even though people like me can't see what she sees. Like Robert Sadler, Mary knew that slavery didn't exactly end at the time of the Civil War.
There are a lot of people in the world who say that truth is relative, and that what is true for one person is not true for others. This discounts God as the author of truth. Then, there are a lot of people who react to those first people, and discount personal experience, refusing to listen to the stories of people unlike themselves. This discounts God as the author of each person's story.
Isn't it a relief that truth never changes because God never changes?
Yet He cares for each person and knows their story. He knows what is in the tree. He knows what each of us sees in the tree, even if we were hoping to not see it anymore.
All right, that's it. Too many philosophical thoughts from looking out the kitchen window. No more dishes for me!
I am leaving the Brady Street Boys intro at the bottom of each post this month, for those who haven't seen it before. Please disregard if you've already read it!
Can the boys escape the tunnel?

Times are simpler in the 1980s. Terry, Gary, and Larry love their maple tree, their boat called the London, and the friendly face of the St. Joseph's River. Gary finds comfort on the river, where he can use his upper body strength to row, and almost forget about his wooden leg and lost dreams.

But nothing is simple when Mom spots suspicious characters in the empty house next door and suggests it may be time to move away. And nothing is easy when Dad and Mom assign the boys a summer project to learn about the fruit of the Spirit.

Terry, Gary, and Larry set out to investigate the strange characters and prove that their neighborhood is safe. But then, the detective work backfires, and the boys are trapped.

Trapped in the Tunnel, Book One of the Brady Street Boys Midwest Adventure Series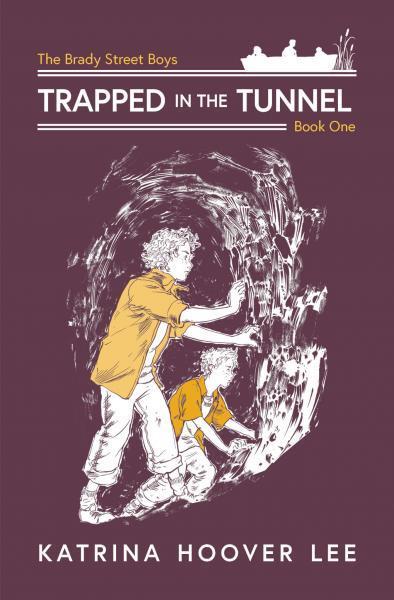 What is the Brady Street Boys series? Based on the fruit of the Spirit, it is expected to have 9 books. Trapped in the Tunnel is Book One. Here is the series description:
Terry, Gary and Larry Fitzpatrick live in northern Indiana along the St. Joseph River. President Reagan lives in the White House. Gasoline costs 90 cents a gallon. For families like the Fitzpatricks, computers and cell phones are still things of the future. The boys' Christian parents teach them to pray and give them a project to learn the fruit of the Spirit. They help Gary navigate the pain of losing his leg and his firefighting dreams.

But having a wooden leg doesn't keep Gary from adventures. With Terry the acrobat, and Larry the brain, Gary begins a quest to find an answer to the most important mystery of all.

What happened to the surgeon who amputated Gary's leg, and has now disappeared?

Brady Street Boys Midwest Adventure Series