My good friend Blanca looked down at Anina sleeping in her car seat.
"If you bring her here much, she's going to be bilingual," Blanca warned me.
"Great!" I said.
Anina and I had just bumped over to Blanca's house with her in the stroller. Across the uneven sidewalks, baking in the 80 degree sun. Past the park where we've seen adults sleeping in the jungle gym. Under the overgrown shrubbery reaching at us from the side. Past the inflatable pool filled with children, mothers watching from a nearby porch.
Anina fell asleep. She doesn't know that the streets are full of dangerous cars. She doesn't know that the man who used to live in the corner house was using meth. She doesn't know that even neighborhoods with flat sidewalks have unhappy, dangerous residents too. She hasn't developed a list of questions about life.
Blanca explained that she talks English and Spanish to her baby son, but more Spanish.
Oddly enough, the best lullaby I can think of to sing to Anina is a Spanish one I learned in high school. I think I heard an English version one time, but I can't remember it. I've added the translation I hear in my head, which may or may not be accurate. Even if it is accurate, the wording in Spanish is much more beautiful.
Soy cordero de Jesus (I am a lamb of Jesus)

Pues con El estoy feliz (With Him I am happy)

El me ama, me conoce (He loves me, he knows me)

Cosas buenas me da siempre (He always gives me good things)

Suple me necesidad (He supplies my needs)

En El puedo yo confiar. (I can have confidence in Him.)
Isn't that perfect for a baby?
But as I sang it over and over, I began to wonder if I am the one who needs the reminder of the words more than Anina. The melody is soothing and beautiful, and she probably can appreciate that. But she doesn't know that life isn't always simple and good and happy. By the time people are my age, they have no illusions about the world. It's complicated. Bad things happen. Sadness infiltrates every life.
At my age, the words of this lullaby are surprising, the ideas so simple they are complex. Each one begs more questions, questions that seek to join the pieces of the simple song with the puzzling pieces of sweat and stress.
I Am A Lamb of Jesus
I follow shepherds from England and Switzerland on social media – the one thing I really enjoy about social media. I just can't get enough of the photos. The hills and the grasses and the flocks of sheep, running, scampering. Could it be that followers of Jesus are really living in such bountiful surroundings, whether they notice it or not?
With Him I am Happy
Simple happiness seems foreign in the stresses and pressures of the world of deadlines, headlines, and checkout lines. Could this be real?
He Loves Me, He Knows Me
I think this is the most beautiful line in the song. Can we be fully known and still fully loved? This is perhaps the foundation of Jesus' ministry, and it feels foreign in our world today.
He Always Gives Me Good Things
My cynical mind wants to strike out the word "Always." What about the Christians in the Holocaust? Did God always give them good things? What about Christian slaves in America? Did God always give them good things?
But the song begs me to put my mind to rest, and ponder the many good things that God has given me. And reminds me that screaming guards and cruel overseers are not from God.
He Supplies My Needs
Do we know what we need? When Anina fights sleep at night, she doesn't seem to know what's best. In the same way, followers of Jesus probably don't always know what they really need. God never operates by trial and error, or a handbook about babies, like Marnell and I.
I Can Have Confidence In Him
Why worry and fear if this is true? According to these words, I can rest in the arms of Jesus, the Good Shepherd, just as Anina rests in the stroller as we bump across the broken sidewalks of the world. Adults with questions about life can be a lamb of Jesus just like children who haven't lived long enough to ask the questions. We don't have to try to figure everything out. We just need to rest.
P.S. Does anyone know this song in English? I also just remembered there is a second verse in Spanish and I can't remember all that either.
I am leaving the Brady Street Boys intro at the bottom of each post this month, for those who haven't seen it before. Please disregard if you have! Only the sample illustration at the bottom is different.
Can the boys escape the tunnel?

Times are simpler in the 1980s. Terry, Gary, and Larry love their maple tree, their boat called the London, and the friendly face of the St. Joseph's River. Gary finds comfort on the river, where he can use his upper body strength to row, and almost forget about his wooden leg and lost dreams.

But nothing is simple when Mom spots suspicious characters in the empty house next door and suggests it may be time to move away. And nothing is easy when Dad and Mom assign the boys a summer project to learn about the fruit of the Spirit.

Terry, Gary, and Larry set out to investigate the strange characters and prove that their neighborhood is safe. But then, the detective work backfires, and the boys are trapped.

Trapped in the Tunnel, Book One of the Brady Street Boys Midwest Adventure Series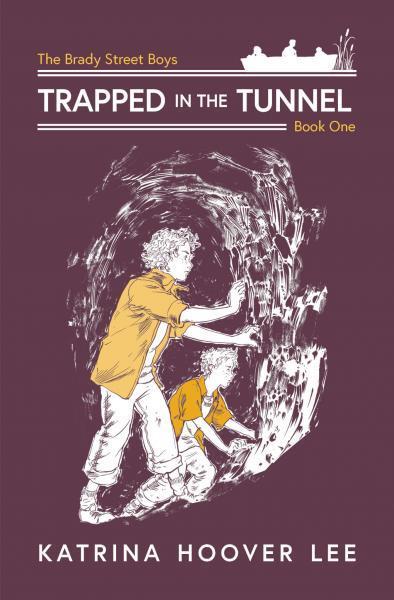 What is the Brady Street Boys series? Based on the fruit of the Spirit, it is expected to have 9 books. Trapped in the Tunnel is Book One. Here is the series description:
Terry, Gary and Larry Fitzpatrick live in northern Indiana along the St. Joseph River. President Reagan lives in the White House. Gasoline costs 90 cents a gallon. For families like the Fitzpatricks, computers and cell phones are still things of the future. The boys' Christian parents teach them to pray and give them a project to learn the fruit of the Spirit. They help Gary navigate the pain of losing his leg and his firefighting dreams.

But having a wooden leg doesn't keep Gary from adventures. With Terry the acrobat, and Larry the brain, Gary begins a quest to find an answer to the most important mystery of all.

What happened to the surgeon who amputated Gary's leg, and has now disappeared?

Brady Street Boys Midwest Adventure Series