Once again, if you wish to multi-task, you can listen instead of read! This podcast is a temporary benefit of my tenth anniversary/grand opening… I may keep it up occasionally after this two-week stretch, but certainly not this often! You can also access this podcast on Spotify, Apply Podcasts and PocketCast. Some people have had trouble with the podcast shutting down when listening directly from this post.
My mind goes back to a kitchen table in Jerusalem, where Faces of Syria was born. Rosetta Byers and I worked into the night, knowing that if we didn't complete it before I left, the project could drag out interminably. Unbelievably, the book was published just weeks later. It is by far the fastest project I have ever been part of. But, thanks to Rosetta's design skills and familiarity with the culture, I would count it as the most beautiful as well. If there's one book I've helped produce that I think everyone should have on their coffee table, it is Faces of Syria. I believe the book has the power to change deep-seated prejudices against refugees, especially those from the Middle East.
A few quick points about good partners for creative projects.
Good Partners Are Interesting!
Okay, maybe this one isn't an essential. But I just love interesting people!
Kevin and Rosetta and I had never met before I landed in the airport in Amman, Jordan. After a short layover, all three of us hopped aboard a plane to Beirut, Lebanon. I remember Rosetta explaining to me that our flight would dip far south under the V-shaped bottom of the nation of Israel, before heading north up the Mediterranean Sea to Beirut. Why? So we wouldn't get shot down for flying to Lebanon through Israel's airspace. Okay! That's a good reason! I loved how she explained this fascinating piece of trivia to me.
In Jerusalem, Rosetta also totally "got it" that I wanted to walk up to the Garden of Gethsemane by myself early Sunday morning. Where some people might have discouraged a lone woman from wandering around in an unfamiliar city, she gave me advice about how to get there.
Then, there was the time our bus was stopped and we weren't sure if we would make it to the border in time to cross, in time to make it back to Amman so I could catch my plane home. Oh, the drama of that baklava-grabbing, ditch-hopping afternoon! These things are all commemorated in Voices of Syria though, so I won't elaborate.
Good Partners Understand that Projects Are Exhausting
Kevin and Rosetta took me all over Lebanon and Jordan. We walked the dusty trails into refugee camps in the hot Bekaa Valley. We sat in the coolness of churches in Amman, Jordan. Kevin could converse with people in Arabic and Rosetta understood and spoke some too. I listened and asked questions through translation. Rosetta discreetly took photos.
Being on the road is super hard, and I am not a great traveling companion. I remember at least two times when I felt like I was going to snap. I could usually make it through my professional duties, but once those were done? Ugh. Rosetta, however, remained upbeat and understanding. She and Kevin were the best tour guides a person could ever hope for.
Good Partners Make Sacrifices For the Project
After our interviews were at an end, we traveled to Jerusalem. On one day in Jerusalem Rosetta and I put together Faces of Syria. As Rosetta chose photos, I sorted through audio and found quotes to correspond with each character. Rosetta also designed the layout for the picture book, infusing it with an Arabic flavor. In my opinion, it remains the most beautiful book of the six in my shop.
Later, when she visited the States, she worked on the project at the expense of spending time with family. Somehow, she stuck it out and it was published in an absurdly short time.
Good Partners Share a Vision that Springs from Common Experiences
When I called Rosetta the other day, I asked her how she thought we possibly managed to get Faces done in less than two months.
"I feel like we just didn't disagree that much as far as what our vision of the book was," I said.
Why not?
"We sat through all those interviews together and in our hearts, it was for the people," she said. "Our goal was the same, and so we didn't get hung up on those details along the way."
Wow. That's it. If you want to do a project with someone, this is the most important aspect. Partner with someone who shares your passion and experiences. From that common ground, your mission will spring, igniting your joint work.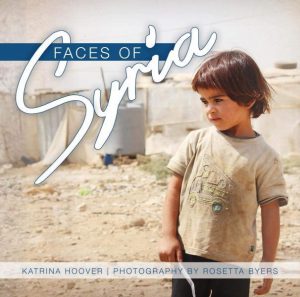 Grand Opening Special
Rosetta's handiwork on Faces of Syria makes it the most beautiful book in my collection. Each spread has a full-page photo of a refugee, with the words they said on the opposite page. Many of them are photos of children, so children find this book especially fascinating.
I just realized the retail price of this book is $12.99, but I am selling it for $9.99! I decided to keep it at that price through the Grand Opening. Of course you also get –
10% off with code 10YEARS
Automatic entry into drawing for $100 cash prize (odds of winning are still good!) People who have ordered twice, will be entered twice.
One free leather bookmark with every purchase that includes one or more books
Check it out on my online store, with photos of readers. And the offer stands! A free leather bookmark with any purchase, and an automatic entry into the drawing for a $100 cash prize.
Trivia for readers: On page 129 of Faces of Syria, there is a picture of a gardener who planted a kind of bean despite being told they would not grow in his environment. Where did the bean seeds come from? The first person to email me (Katrina@500-words.com) with the right answer receives a gift pouch of Captain Garrison coffee by mail! You may only win once. TOO LATE FOR TODAY! Thanks for playing. There will be two more tries.

Congrats to Cole and Anita Miller for the correct answer to the last trivia, "But I am!"
Tomorrow: Is it important to have a clear mission statement for a project? Interview with Reagan Schrock from Anabaptist Perspectives. We also discuss Voices of Syria and Reagan's work in the Middle East. Don't miss it!