I'll never forget the story from Joplin, MO, of the husband and wife who lived in an upstairs apartment. When the tornado sirens went off, the husband suggested they go downstairs to a safe place. The wife was napping and didn't want to be bothered, so she refused to go. The husband went downstairs and the tornado roared in like a giant vacuum cleaner, destroying most of central Joplin, including the upstairs apartment. Just minutes later, a rescue worker found the stunned husband. When he heard his story, he climbed up into the rubble to check on the woman. He found a woman, dead. Not knowing for sure if it was the wife of the man below, he took a photo on his phone, and climbed back down.
"Yes," the husband said, dazed. "That's her."
You may already have Shatterproof, the book I wrote about the tornadoes of 2011. I'm going to give away a free signed copy today, so if you win it but already have it, feel free to pass it on to a naive neighbor, friend or family member who ignores weather warnings. You may save their life some day!
Shatterproof is unique in that it is almost like three books in one. It is divided into three sections: Hackleburg, Alabama; Ringgold, Georgia; and Joplin, MO. Besides the personal stories of people involved in these tornadoes, I've included gray boxes of fascinating tornado facts, a chart of the EF scale and what it means, and tornado safety tips. Here's where you can pick up the paperback or the Kindle version: Shatterproof.
Here are some of the books on which I relied heavily as I did my research for Shatterproof.
And if you want a really short refresher on tornado safety, come back tomorrow for Tuesday Tips and I will give you a two minute fast refresher on tornado safety.
To enter the drawing for a free signed copy of Shatterproof, leave a comment here on the blog or on Facebook from now until 7 am Tuesday morning, April 30, 2019. Winner will be announced on the Tuesday Tips post.
Have a great start to the week!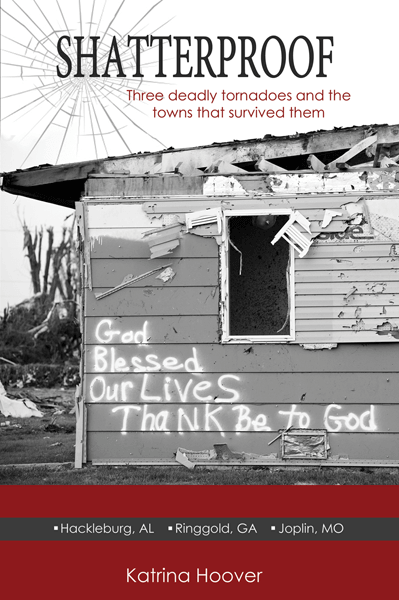 I have started something new and included affiliate links in this post. This gives me an opportunity to make a small percentage of any sales from the links I post here, thereby supporting the time I spend writing. Again, I plan to post Merchant Posts only on Mondays, so you always know you can expect the Saturday night post to be commercial-free. 🙂